Entry 2 of 2 for
team_sga
's AU Fest.
44. From
tipsywitch
: The Big Bang Theory - Pegasus style.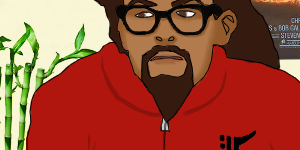 Rodney = Sheldon, obviously
Teyla = Leonard
John = Howard
Ronon = Rajesh
I don't even know what kind of art this is. Photomanip? Paint-over? Digital drawing? Tracing? It involved a lot of cut-and-paste from various stock photos, tracing, painting, and stock photo background.
But I did shading this time! \o/
Even if it is only a tiny bit. There are a couple of things I might want to fix up later, especially the background bits.